​
Creative jobs have come a long way. From the early job descriptions such as 'Commercial Artist' and 'Storyboard Artist' to contemporary career paths such as UX Design Lead, Wayfinding Specialist and Scrum Master. More than any other industry, the positions available to designers and creatives have changed and developed greatly. We will spend a few moments unpacking what these roles mean, how they intersect and what it means for the future of the creative industry.

In the past 18 months many industries have suffered, but creative and design roles may have fared better than most as the industry is still healthy and thriving. With the increased reliance on digital and online commerce, digital designers have more opportunities than ever before. According to a Creative Victoria report:
How these roles have emerged
It's a case of natural evolution. Website, app and digital design are no longer in it's infancy. We are in the midst of the maturing of these industries. With developed platforms and established servers and hostings, the world has turned its focus from traditional service to service of a digital nature.
Bricks and mortar stores and shops are still around but many products and services are now online and no longer require physical premises. A shift towards experience, immersive design and seamless movement when shopping online have paved the way for new types of design and new job roles and opportunities. This online or digital focus has seen the new roles centering around 'experience'.
​
So what are the roles and how do they all intersect?
The best place to start to gain a clearer understanding is with a definition of the roles and what each entails: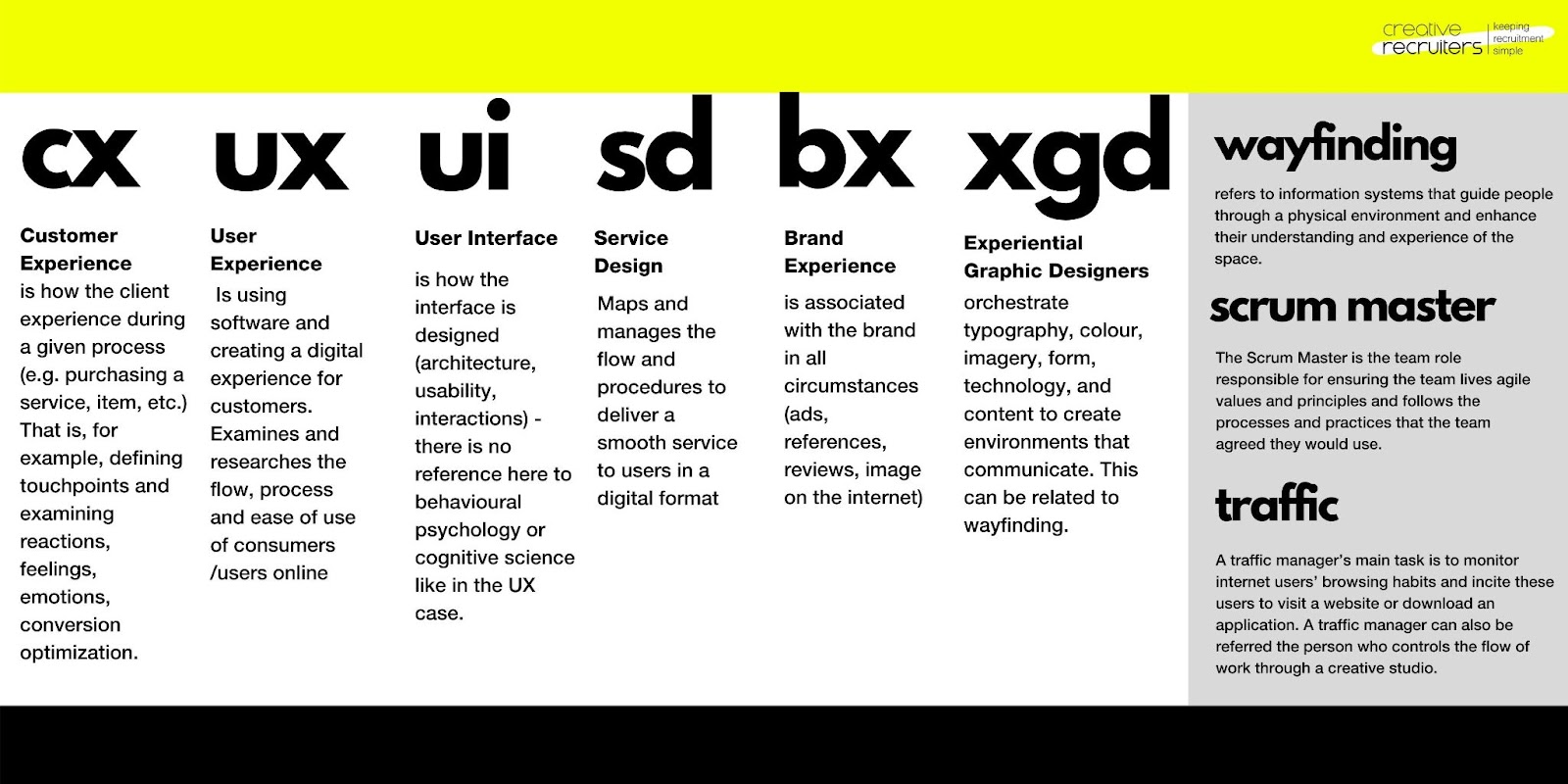 ​
​
When we look at UX Design, it tends to focus on developing the layout of information and user interactions for the whole digital product, whereas UI Designers create the aesthetic or visual design for a digital or online product.
​
UX Designers will start the design process of a web or mobile app with quality user research, and once completed they will draft wireframes (visual map of what is proposed online), that is then passed to the UI Designer to begin the UI design process of applying visual design to the wireframes.
Both use wireframes at different stages of the process:
​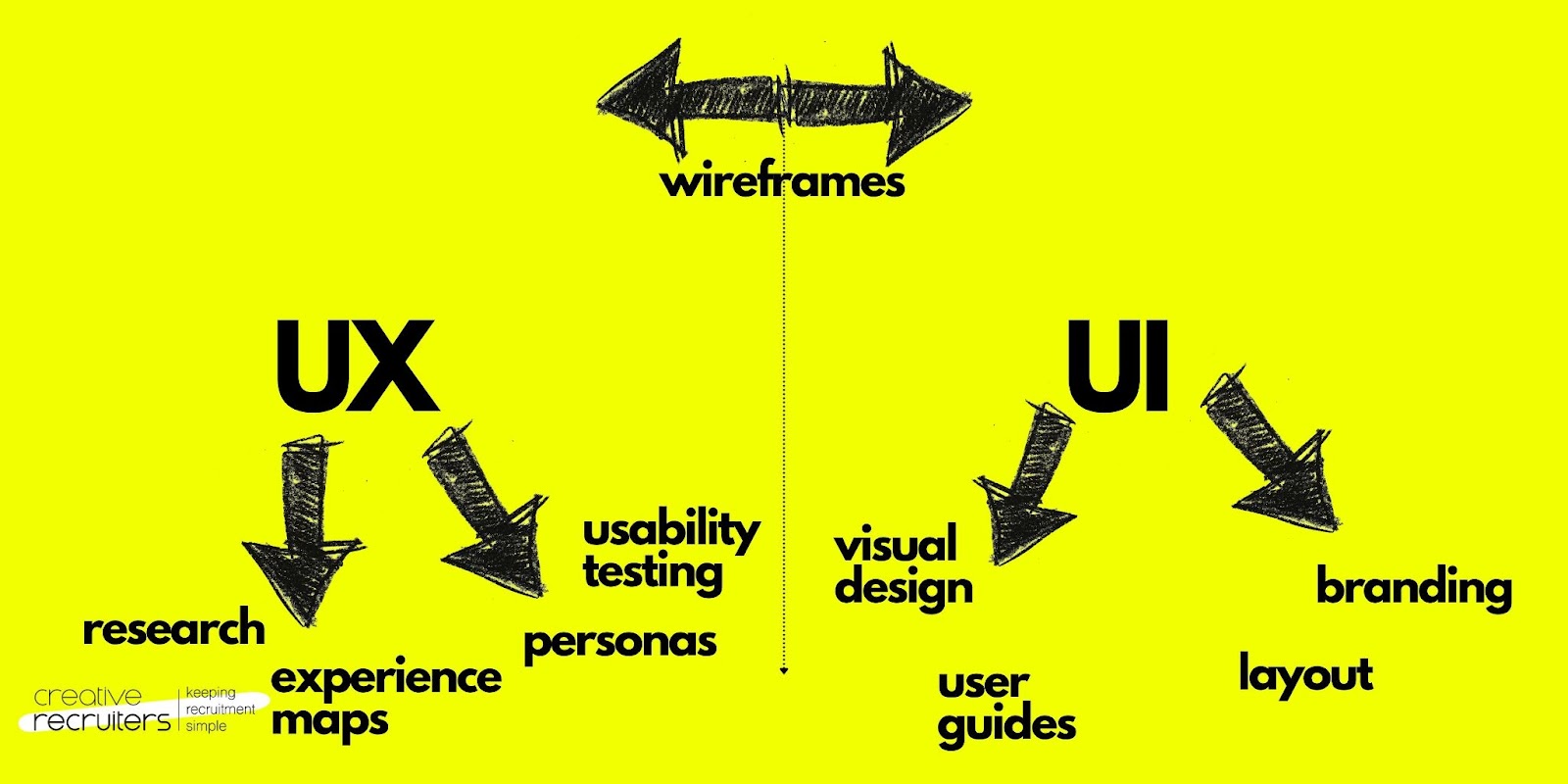 ​
Customer Experience is closely related to User Experience and the responsibilities are clearly defined in this diagram below. UX forms part of the whole customer experience journey.
​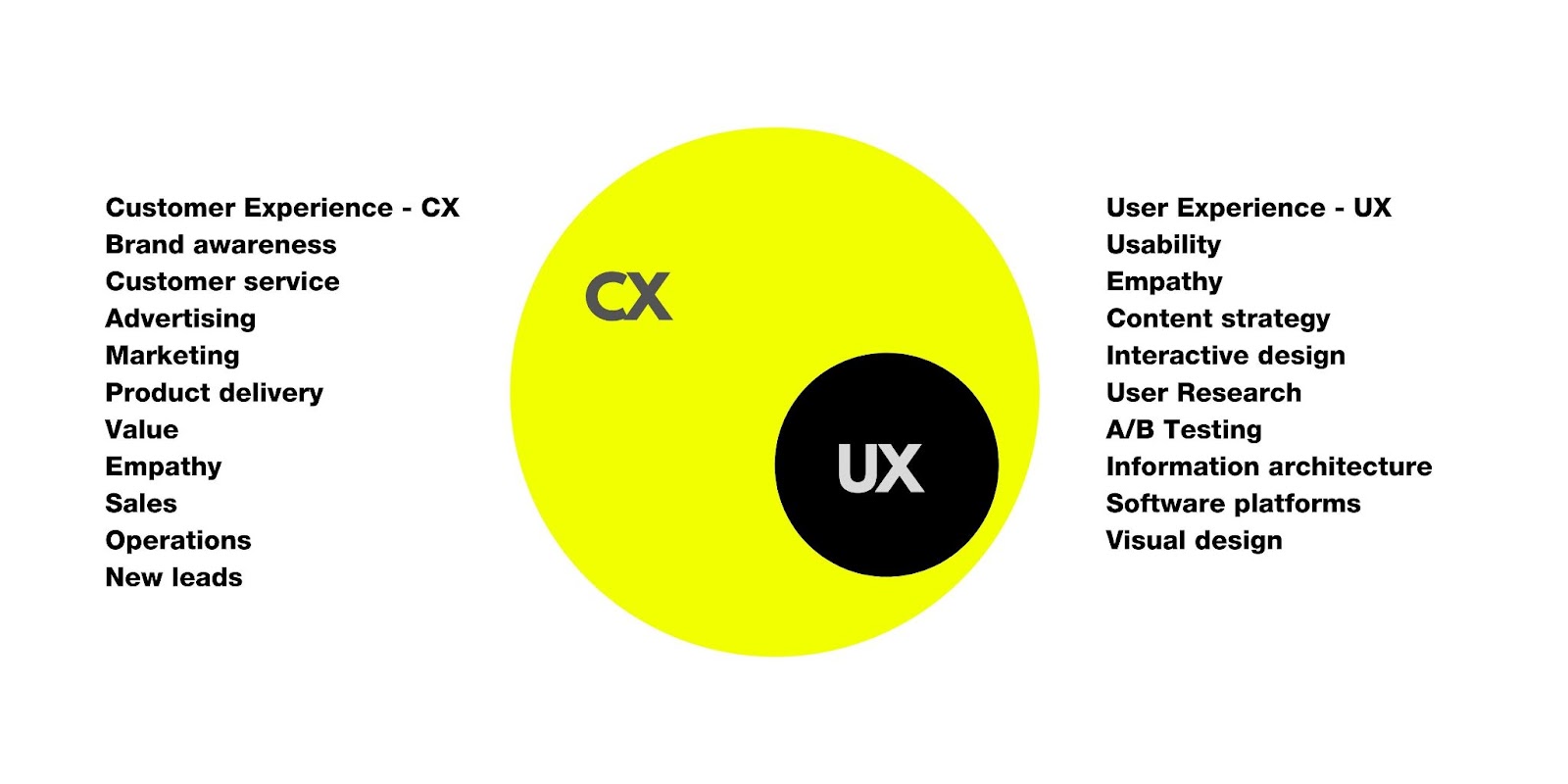 ​
UX Designers focus on designing one product interface based on users' needs, while CX is more focused on researching and updating multiple products in order to create and optimise the holistic Customer Experience. The Customer Experience represents every step of the journey. In essence, UX is part of a broader CX, but CX contains some aspects outside of a product that UX does not.
​​Brand Experience, or BX, is how the user feels when engaging or interacting with a brand. Brand Experience is subjective and changes from person to person because each individual has different experiences and associations that are evoked by the brand. It is closely related to CX, and Service Design including customer service in the traditional sense. Brands that have a personality and interaction with the brand needs to be carefully managed.
​
There is also an increased demand for 'motion' design. Motion Designers, 3D Artists and Motion Graphic Designers are highly sought after, and those with strong folios and editing skills can find themselves working on some exceptional projects. These skills, which have developed from traditional graphic design, have now moved to Motion Design, and in some cases illustration and 3D rendering. In the future, there will be more demand for designers that have motion experience and qualifications.
Creative roles of the future
​
Each of these career paths is an emerging creative opportunity. They have been born from evolution within the design and now incorporate research, mapping, personas and journeys. Using a mix of traditional marketing tools blended with up-to-date software platforms and technology, these design roles are still in the creative space but also are technology-based and customer-centric at their essence. These roles have embraced the management of new ways of buying, browsing and purchasing for consumers. They have factored in elements of better teamwork and collaboration, higher traffic levels and lead generation, and are really at the crossroads of where creativity, design and innovation meet.
​
Companies are looking for experienced designers in these roles and there are lots of opportunities for junior designers and those developing their folio and experience. The Creative Recruiters job page regularly showcases vacancies in these areas and we are always looking for designers in this space. Add your email address to be alerted to relevant roles. For more information on relevant courses, or how to shift your career towards these roles, you can research General Assembly, RMIT, or Monash Uni for more information.
​
The new creative landscape is becoming more digitally focussed, just as consumers are, and with each role, the customer is at the centre. Experience is the focus. Design that works hand in hand with curating the customers' experience of the brand and buying is at the heart of these emerging jobs within the creative industry. More information about these individual roles can be found on our services page.

Creative Recruiters is Australia's leading creative and digital recruitment agency recruiting Australia wide.
We understand our clients and the creative community.
Speak to us if you have a role you are looking to fill or are interested in hiring creative talent.
Apply directly online to any of our job roles.
​
Sources:
https://research.qut.edu.au/dmrc/wp-content/uploads/sites/5/2018/03/Factsheet-1-Creative-Employment-overview-V5.pdf
https://creative.vic.gov.au/research/data/industry-insights/employment
​