A few days ago I was watching a show called "Four Corners" on the ABC which was about the devastating environmental effect of plastic waste. I spent the entire night thinking about different actions I can take to protect our planet. Any idea that popped into my head felt a bit far out of reach and I knew that we can't change social behaviour or government regulations overnight.
The next day, I came across an art piece on Instagram (which is featured below) that really moved me. In case you can't tell what this picture is, it's a plastic bag in the shape of an iceberg. A small everyday object that could have a catastrophic impact on our lives, our earth and our fellow species.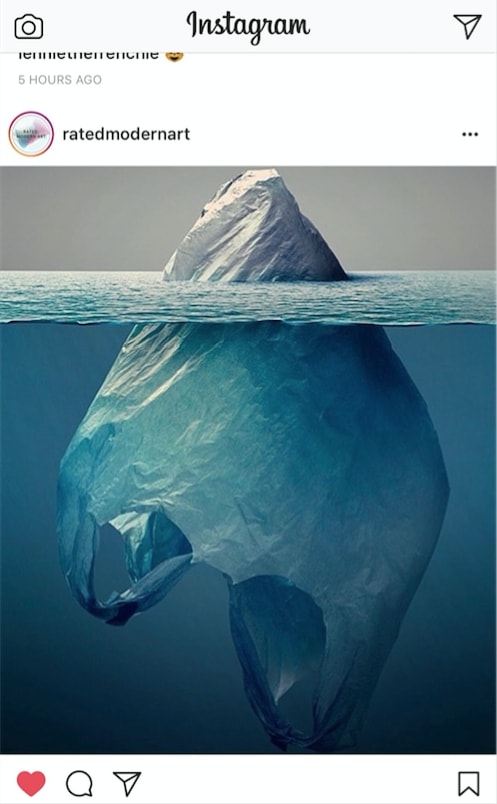 Then I told myself I have worked with creatives and the Creative industry all my life so why not ask for help from our community? After all, nothing moves people better than creativity and ideas.
Let's flood social media with our posts!
I am sure that there are many Art Directors, Graphic Designers, Motion Designers, 3D Modellers and Copywriters out there who share the same values and care about the environment, the earth and the species we live with. At the same time there are many students and graduates who are looking to get their foot in the door and would like to share their creative thinking with the community.
So I decided to start a competition for all graduates and students in Australia to come up with a creative post that they can share on Instagram and Facebook.
I'm going to call the competition "Foot in the Door".
Who can join the competition?
All Students and creatives who graduated in the last year who are interested in working as a Graphic Designer, Illustrator, Motion Graphics Designer and Advertising Copywriter or Art Director (creative teams are accepted).
Creative brief and rules:
Create a post that encourages individuals to be more socially responsible in regards to the environment. Create a piece that you can utilise in your folio for potential employers. This is an open brief, so let your creativity flow.
Feel free to think outside the box. If you are a Motion Designer, you can create a short video or a GIF or a 3D model (whatever you find suitable for your folio). Same applies to Graphic Designers; the work does not necessarily have to be a poster, it can be an icon, a logo, a monogram, packaging or mix them all up.
For Art Directors and Copywriters, high end execution is not required. You can create simple ideas with pen and paper or just using text.
How to submit your work?
Post your work on Instagram or Facebook using the hashtag #CreativeRecruiters4SocialChange.
Deadline:
31st of July 2017 at 12:00 pm Australian Eastern Standard Time.
Winners:
The top 25 winners will be featured on the Creative Recruiters Instagram.
The top 5 winners will get an hour of one-on-one time to review your Folio with Creative Recruiters resident graphic design expert.
The number 1 winner in each category will be promoted on all of the Creative Recruiters digital and social media platforms, aimed at increasing their exposure to help them to get their foot in the door!
Not a Graduate? Still Passionate About the Environment?
If you are a creative who is interested in encouraging social change, please feel free to contribute. If you have existing work that you feel is aligned with the brief, please feel free to share on our Instagram or Facebook too.
Here comes my philosophical moment: We may not be able to change the world and social behaviour in one day, but with today's technologies, we are able to educate people one post at a time. If we all do it together we can slowly implement change. As Michael Jackson once said: I start the change with myself...


Houman (Houmi) Bigloo
Digital Recruitment Consultant - Creative Recruiters
m: +61 481 332 461
e: houman@creativerecruiters.com.au